Screw Tip Assemblies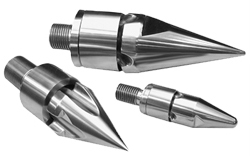 No one check valve design is perfect for every application;
Therefore, we offer (3) distinct designs to ensure the proper
component for your application.
ACCU-FLO DESIGN

Advantages:

Excellent Design for Most Plastics
Good for Color Mixing
Good Shut-Off
Faster Screw Recovery - Less Heat build-up
3-Piece Design

OEM DESIGN

Advantages:

Good Design for General Purpose Materials
Excellent Shut-Off
Excellent for Small Precise Shots
OEM Compatible
Rotating Ring Design Where Applicable
All the Best Characteristics of OEM plus custom-designed enhancements to improve overall performance
3-Piece Design

4-PIECE DESIGN

Advantages:

Ideal for High Abrasion Materials
Alloy Tool Steel Nitrided
Carbide Faced
Ceramic Faced
4-Piece Design
Services for Plastics, Inc. screw tip assemblies are made from significantly higher quality tool steels than available through the OEM. Along with better quality, SFP provides customized designing of the screw tip assembly to successfully work with your brand of molding machine and type of application. And SFP offers them at significantly lower prices than the OEM can offer. SFP screw tip assemblies are the BEST VALUE in the industry!
We stock a wide variety of brands, plus we also can manufacture any screw tip assembly. Using your sample tip assembly, your print or a print from our extensive library, we will manufacture a screw tip assembly to match your specific requirements. SFP screw tip assemblies are available in a wide variety of tool steels to match your application.

| | | | |
| --- | --- | --- | --- |
| Material Options: | | H-13 Tool Steel | D-2 Tool Steel |
| | | CPM-9V Tool Steel | CPM-420V Tool Steel |
| | | CPM-M4 Tool Steel | |
The following brands of tip assemblies are in stock and ready to ship.
Arburg
Autojector
Battenfeld
Beloit
Bipel
Boston Mathews
Boy
Bucher
Chuan Lih Fa
Cincinnati
Cincinnati ACT / Roboshot
Cincinnati Roboshot
Cincinnati Vista
Cincinnati Vista Sentry
Demag
Desma
Dima
Dong Shin
Egan
Engel
Farrel
Fellows
Ferromatik
Fortune
Fu Chun Shin
Gloenco
Gloucester
Gluco
Goldstar
Haitian
Hettinga
HPM
Hull
Husky
Illinois Precision
Impco
Jaco
Johns
Jomar
JSW
Kawaguchi
Kenplas
Klockner Ferromatik
Klockner Windsor
Krauss-Maffei
Kuasy
Lester
Lien Fa

Lombard
Maplan
Martinand
McNeil
Meiki
Metalmec
Mini-Jector
MIR
Mitsubishi
Moslo
Multiplas
Natco
Negri Bossi
Netstal
New Britain
Newbury
Niigata
Nissei
Nissin
Pentaject
Presma
Promax
Pyramid
Reed Prentice

Rutil
Sandretto
Seiko
Shinwa Seiki
Sodick
Stokes
Stork
Stubbe
Sumitomo
TMC
Toshiba
Toyo
Triulzi
Trubor
Trueblood
UBE
Van Dorn
Van Dorn / Demag
Van Dorn / GT
Wabash MPI
Welltec
Willert
Windsor
YCI - Supermax