DIY EZ Wipes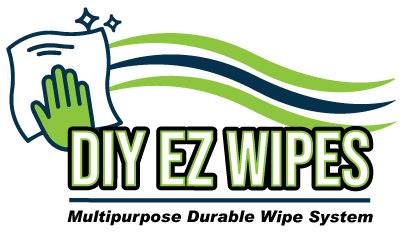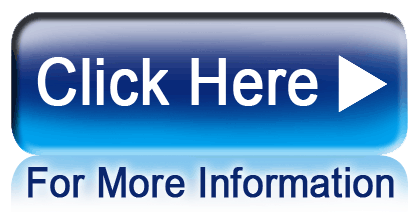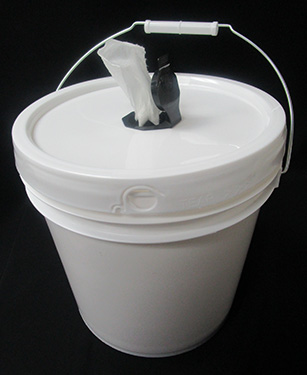 Made so customers can add any
cleaning solution with a blank label.
DIY EZ Wipes are ideal for Schools, Hospitals, Dentist Offices, Gyms, Casinos, Doctors Offices, Resturants, Retail, and More.

Each bucket of DIY EZ Wipes includes a high capacity 450 sheet supply of durable and versatile wipes made from heavy duty non-woven absorbent cloth. The wipes are also perforated for easy, tear-off use. Any type of disinfectant or cleaning solution can be added to DIY EZ Wipes.

It also includes a secure locking lid which maintains cleanliness of interior wipes and solution and an integrated ergonomic easy-carry handle for maximum portability. The lid features a resealable opening included to dispense wipes. The durable high density polyethylene bucket is made with both a high strength and lightweight design.
Product Specifications:
Dimensions: 10"x10"x10"
Weight: 3.15 lbs (dry)
Wipe Dimensions: 8"x8"

Manufacturers of High-Quality Products for the Plastics Molding Industry
Home | Request a Quote | Place an Order | Product Index | Online Catalog | Barrels & Screws | Electrical Products | Hoses & Fittings | Molding Accessories | SDS Sheets | Credit Application | Terms & Conditions | About Us | Contact Us

SERVICES FOR PLASTICS, INC.
800-627-1033
7925 N. Clinton St., Fort Wayne, IN 46825-3113, USA
E-mail: Sales@ServicesForPlastics.com
Contact Webmaster regarding content or link problems
Copyright 1997-2023 Services For Plastics, Inc. All rights reserved.