DIY EZ Wipes are ideal for Schools, Hospitals, Dentist Offices, Gyms, Casinos, Doctors Offices, Resturants, Retail, and More.

Each bucket of DIY EZ Wipes includes a high capacity 450 sheet supply of durable and versatile wipes made from heavy duty non-woven absorbent cloth. The wipes are also perforated for easy, tear-off use. Any type of disinfectant or cleaning solution can be added to DIY EZ Wipes.

It also includes a secure locking lid which maintains cleanliness of interior wipes and solution and an integrated ergonomic easy-carry handle for maximum portability. The lid features a resealable opening included to dispense wipes. The durable high density polyethylene bucket is made with both a high strength and lightweight design.

Product Specifications:

Dimensions: 10"x10"x10"

Weight: 3.15 lbs (dry)

Wipe Dimensions: 8"x8"


For information download our brouchure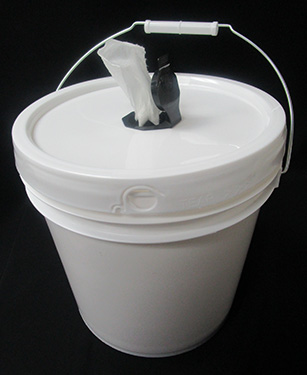 DIY EZ Wipes are specifically made so customers
can add any cleaning or disinfectant solution
and left blank for custom labeling.