Self-Coiling Hose
For Transferring Air
A safe, convenient hose for all pneumatic tools. Standard duty air hose assembly stretches and recoils like a telephone cord. Lightweight, abrasion resistant and completely oil proof. All assemblies include male swivel fittings with spring guard included.

CONSTRUCTION:
Tube: Nylon 11
Reinforcement: None
Cover: Nylon 11
Pressure Rating: 200 psi at +70°F
Temperature Range: -40°F to +180°F
Fittings: Included
Colors: Available in Yellow Only
Length: Available in 12', 25', and 50' lengths.
Sizes: Available in 1/4 and 3/8 NPT.

Packaging: Sold individually.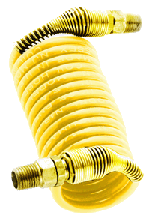 SFP hose is compatible with the following brands: Accuflex, Ace, Armstrong, BDI, delafield, Durodyne, Eaton, Flexcraft, gates, Goodyear, HMD/Thermoid, Jackson Industries, Kord, Kuriyama, Lab Industrial, Lincoln, Nova Flex, NRP Jones, Parker, Parker-Hannifin, Powertrack, Riverbend, Salem-Republic, Senior Flexonics, Swan Hose, TCH, Thermoid, Tifco, Tift, Titan industries, US Hose, Willcox.