Buna-N 70 O-Rings
Standard o-rings for most general applications: petroleum base lubricants, hydraulic oils, gasoline, fuels, alcohol, L.P. gases, water, etc.
Available Widths: 1/16", 3/32", 1/8", 3/16"
Temperature Range: From -40°F to +275°F
I.D. Sizes: From 5/64" to 6-1/2"
O.D. Sizes: From 13/64" to 6-3/4"
Other sizes and materials available including: Ethylene-Propylene, Silicone, Neoprene, Viton and Fluoro-silicone
Packaging: Sold in 50 or 100-piece packages, depending on size.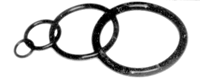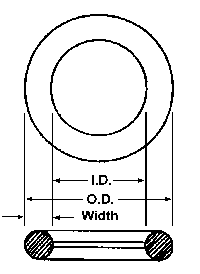 O-Ring Splicing Kits
Make quality custom O-Rings in minutes

Ideal for replacing large, expensive, hard-to-find sizes

Buna-N Cord Stock (7' of each nominal diameter: 0.103, 0.139, 0.210, 0.275)

Cutting and Splicing Jig

Rapid-set Adhesive

Viton O-Ring Kits Also Available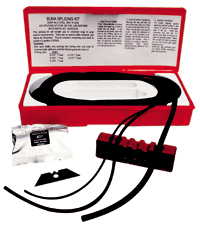 SFP o-rings are compatible with most major brands including: Omega, Precision, Marco, Seal Technologies, All Seals, Allied, Dupont Performance, Zatkoff, Freudenberg-NOK, Satori, Chicago Gasket, Dichtomatic, Quick Cut, State Seal, Seal-Jet, Wessing, Vanguard, Rodon, Varian, International Rubber, Vita, Allstates Rubber, national Webbing, Timco, OGS, Mercer, Watts, baxter, Elasto Proxy, J.W. Industries, Die-Cut, ATP, Dura-Belt, RPM, Diamond, PCM, Elastomeric, Da/Pro, Daemar, United Seal, Rubbercraft, Auburn, Universal.