Non-Threaded Line Vac™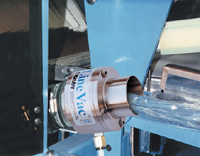 EXAIR® Line Vac™ is designed to fit standard hose and tube. They are best for moving materials over long horizontal and vertical distances. Eleven sizes in aluminum and ten sizes in stainless steel are available to suit a wide variety of transfer applications.
Line Vac Only
SIZE
MATERIAL
PART NO.
3/8" (10mm)
Aluminum
LV6078-AL
Stainless Steel
LV6058-SS
1/2" (13mm)
Aluminum
LV6079-AL
Stainless Steel
LV6059-SS
3/4" (19mm)
Aluminum
LV6080-AL
Stainless Steel
LV6060-SS
1" (25mm)
Aluminum
LV6081-AL
Stainless Steel
LV6061-SS
1-1/4" (32mm)
Aluminum
LV6082-AL
Stainless Steel
LV6062-SS
1-1/2" (38mm)
Aluminum
LV6083-AL
Stainless Steel
LV6063-SS
2" (51mm)
Aluminum
LV6084-AL
Stainless Steel
LV6064-SS
2-1/2" (64mm)
Aluminum
LV6085-AL
Stainless Steel
LV6065-SS
3" (76mm)
Aluminum
LV6086-AL
Stainless Steel
LV6066-SS
4" (102mm)
Aluminum
LV6087-AL
Stainless Steel
LV6067-SS
5" (127mm)
Aluminum
LV6088-AL
Stainless Steel
N/A
Threaded Line Vac™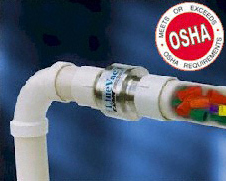 EXAIR® Threaded Line Vac™ attaches easily to plumbing pipe coupler, making it easy to build a complete system using ordinary pipe and fittings available from any home center, hardware store or plumbers supply. Five sizes available in Aluminum only.
Threaded Line Vac Only
SIZE
MATERIAL
PART NO.
3/4 NPT
Aluminum
LVT140075-AL
1 NPT
Aluminum
LVT140100-AL
1-1/4 NPT
Aluminum
LVT140125-AL
1-1/2 NPT
Aluminum
LVT140150-AL
2 NPT
Aluminum
LVT140200-AL
Mounting Brackets
Line Vac Mounting Bracket
PART NO.
DESCRIPTION
LVMB6994
For 3/8" (10 mm) & 1/2" (13mm)
LVMB6995
For 3/4" (19mm) & 1" (25mm)
LVMB6996
For 1-1/4" (32mm) & 1-1/2" (38mm)
LVMB6997
For 2" (51mm) & 2-1/2" (64mm)
LVMB6998
For 3" (76mm) & 4" (102mm)
LVMB6999
For 5" (127mm)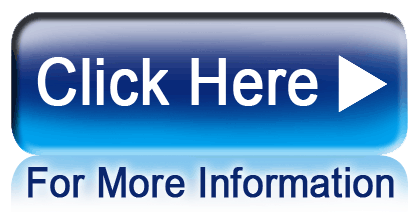 Manufacturers of High-Quality Products for the Plastics Molding Industry
Home | Request a Quote | Place an Order | Product Index | Online Catalog | Barrels & Screws | Electrical Products | Hoses & Fittings | Molding Accessories | SDS Sheets | Credit Application | Terms & Conditions | About Us | Contact Us

SERVICES FOR PLASTICS, INC.
800-627-1033
7925 N. Clinton St., Fort Wayne, IN 46825-3113, USA
E-mail: Sales@ServicesForPlastics.com
Contact Webmaster regarding content or link problems
Copyright 1997-2023 Services For Plastics, Inc. All rights reserved.