Abrasive Pads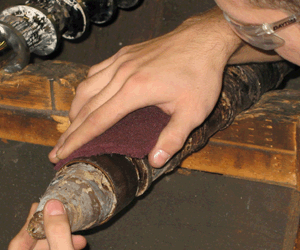 Poly-Brite Pads are made of heavy non-woven material, impregnated with abrasive grain and bonded with synthetic resins.Ideal for removing rust and corrosion and for cleaning and preparing surfaces, Poly-Brite pads are washable and can be reused many times. Easy on the hands, these pads replace steel wool with no rusting, splintering, or contamination. Adaptable to both hand or machine finishing.
The All-Purpose pad is an ideal general purpose aluminum oxide pad for hand blending, cleaning and finishing. Is also safe for use on printed circuit boards.Removes rust and corrosion, renews satin finishes on aluminum extrusions.
The Heavy Duty Pads are a fast cutting pad made of tough, non-woven nylon material, impregnated with 120 grit aluminum oxide grain and bonded with high-strength resins.Works fast on even the most demanding cleaning and finishing jobs.Also ideal for cleaning barrels.
Ultra Fine Silicone Carbide Pads are especially suited for light cleaning and fine finishing on all metals, plastics and fiberglass surfaces. These pads are ideal for removing fine burrs on threaded parts, cleaning glass molds and polishing dies. Can also be used for rubbing down primer and sealer coats in woodworking.
Packaging:Sold in 6" x 9" pads; available in a variety of densities and colors.



Click on the image above for a close up view of Poly-Brite pads
PART
NO.
DESCRIPTION
COLOR
SIZE
PCS /
CASE
PB-0000
All Purpose
Maroon
6" x 9"
80
PB-1000
Heavy Duty
Tan
6" x 9"
40
PB-2000
Ultra Fine
Grey
6" x 9"
80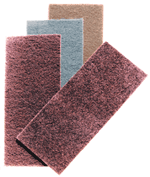 SFP Poly-Bright Abrasive Pads are comparable with the following brands: 3M, 3M Abrasives, Abrasive Technology, Bailey Parks, Bayland, Beacut, Bear-Tex, Carborundum, Dupont, Eastwind, Fandeli, Fibratex, GMT, Global Material Technologies, Keystone, Scotch Brite, Suhner, Roloc, Weiler.

Manufacturers of High-Quality Products for the Plastics Molding Industry
Home | Request a Quote | Place an Order | Product Index | Online Catalog | Barrels & Screws | Electrical Products | Hoses & Fittings | Molding Accessories | SDS Sheets | Credit Application | Terms & Conditions | About Us | Contact Us

SERVICES FOR PLASTICS, INC.
800-627-1033
7925 N. Clinton St., Fort Wayne, IN 46825-3113, USA
E-mail: Sales@ServicesForPlastics.com
Contact Webmaster regarding content or link problems
Copyright 1997-2023 Services For Plastics, Inc. All rights reserved.