Bunting
Metal Detector/Separator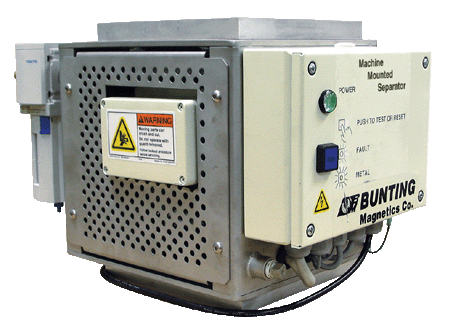 Machine-mounted Metal Detector / Separator
Bunting Machine-mounted all-metal separators provide efficient rejection of both ferrous and nonferrous metal contaminates and fit where headroom is limited. Designed especially fir chock-feed applications, the unit can be bolted directly to the infeed of processing equipment and support the weight of hoppers and/or bins. A fast pneumatic rejection mechanism aided by precise timing results in accurate cycling and conservation of good material.
Separators install directly above infeed.
Rugged housing allows mounting of other equipment.
Precise timing results in accurate cycling.
Fast pneumatic reject mechanism reduces waste of good product.
Slide gate rejection design eliminates contaminate 'leaks'.

Manufacturers of High-Quality Products for the Plastics Molding Industry
Home | Request a Quote | Place an Order | Product Index | Online Catalog | Barrels & Screws | Electrical Products | Hoses & Fittings | Molding Accessories | SDS Sheets | Credit Application | Terms & Conditions | About Us | Contact Us

SERVICES FOR PLASTICS, INC.
800-627-1033
7925 N. Clinton St., Fort Wayne, IN 46825-3113, USA
E-mail: Sales@ServicesForPlastics.com
Contact Webmaster regarding content or link problems
Copyright 1997-2023 Services For Plastics, Inc. All rights reserved.