Permatex® Anti-Seize Thread Lubricant
Prevents thread seizing, galling and corrosion in heavy-duty applications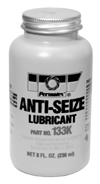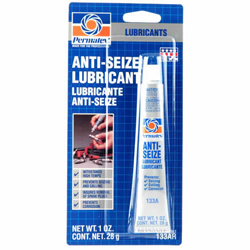 Assures easier disassembly of parts even after exposure to extreme temperatures and corrosive conditions.
Aluminum flake - the recommended and preferred anti-seize for use with Acetal, Nylon and PVC.
Resists temperatures of -65°F to +2000°F.
Conforms to MIL-A-907E.
No ozone depleting substances.
Packaging: Sold in 1 oz. tubes or 8 oz. brush-top cans.
PART
NO.
DESCRIPTION
PTL-133A
1 oz Tube
PTL-133K
8 oz. Brush-top Can
Our thread lubricant is comparable with the following brands: 3M, Alcoa, Appleton Electric, Aquadag, Bosworth, Campbell, Campbell-Bosworth, Chemola, Clearco, Conley, Crouse-Hinds, Dunhill, Fastorq, Fe-Pro, Hydroseal, Inox, Jet-Lube, Killark, Loctite, Nylok, Rocol, Seal-Lock, Scotch, Star bright, startec, STL, Swagelock, Tylube, Versachem, Weller.

Manufacturers of High-Quality Products for the Plastics Molding Industry
Home | Request a Quote | Place an Order | Product Index | Online Catalog | Barrels & Screws | Electrical Products | Hoses & Fittings | Molding Accessories | SDS Sheets | Credit Application | Terms & Conditions | About Us | Contact Us

SERVICES FOR PLASTICS, INC.
800-627-1033
7925 N. Clinton St., Fort Wayne, IN 46825-3113, USA
E-mail: Sales@ServicesForPlastics.com
Contact Webmaster regarding content or link problems
Copyright 1997-2023 Services For Plastics, Inc. All rights reserved.