New Twin Feedscrew Extrusion
Built to Equal or Surpass O.E.M. Specifications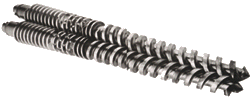 Our Commitment
Services for Plastics, Inc. Twin Feedscrews are manufactured from D-2 Heat Treated Steel, CPM-9V Heat Treated Steel or CPM-10V Heat Treated Steel for maximum abrasion resistance and extended life. Along with its commitment to higher quality, SFP also provides customized designing to successfully work with your specific brand of machine and type of application. We utilize our knowledge and hands-on molding experience to provide you with superior quality new and rebuilt barrels and feedscrews.
Product Selection
We stock a wide variety of brands, plus we are able to design and custom tailor feedscrews and barrels per your application. Our engineers have over 75 years of combined twin feedscrew experience. We have the capabilities to understand your unique application and to assist in the design that will yield the highest throughput with the best melt quality. For high shear, low shear, large throughput and high RPM speed, we have your answers.
Delivery
With a huge selection of barrels and feedscrews, we will likely have what you need IN STOCK. If we have it in our inventory, we will ship it the same day. If we don't have what you need, we can build it for you in very little time. And when expediting is required, we can ship your new feedscrew or barrel in just TWO WEEKS or less.
Quality Craftsmanship
At SFP, we believe there's nothing more important than getting it right the first time! That's why our team of engineering experts does whatever it takes to design the best barrel or feedscrew to match your application. Once the design is complete, our barrels and feedscrews are precision built to provide you with the highest level of quality and performance possible. Each barrel and feedscrew is then quality inspected for dimensional accuracy, straightness, and surface finishing.
The following list represents a listing of the most popular brands we offer. We have thousands of prints on all of the major twin feedscrew extruding machines in North America. E-mail us today for a quote on your next barrel!
American Leistritz
Baker & Perkins (APV)
Berstorff
Bonnot
Bucher
Century Extrusion

Cincinnati Milacron
Coperion
Cosomoplast
Davis Standard
Egan

Farrel
Ikegar
JSW (Japan Steel Works)
Krauss Maffei
LMP
Maris

Reifenhauser
Theysohn
Toshiba
W&P (Werner & Pfleiderer)
Welding Engineers

Manufacturers of High-Quality Products for the Plastics Molding Industry
Home | Request a Quote | Place an Order | Product Index | Online Catalog | Barrels & Screws | Electrical Products | Hoses & Fittings | Molding Accessories | SDS Sheets | Credit Application | Terms & Conditions | About Us | Contact Us

SERVICES FOR PLASTICS, INC.
800-627-1033
7925 N. Clinton St., Fort Wayne, IN 46825-3113, USA
E-mail: Sales@ServicesForPlastics.com
Contact Webmaster regarding content or link problems
Copyright 1997-2023 Services For Plastics, Inc. All rights reserved.