FREE
In-House Inspections
Services For Plastics can help to alleviate the problems and costs associated with the repair or replacement of your barrels & screws. Take the guess work out of knowing when your components need reconditioned or replaced.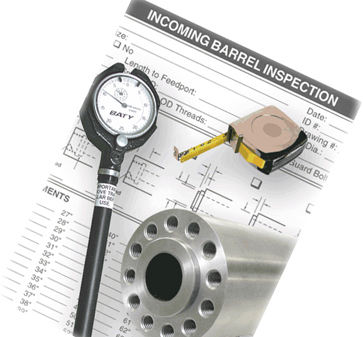 It's as easy as 1... 2... 3!
1. Ship your barrel & screw to SFP.
2. We will perform a fully detailed FREE inspection of your parts and provide a comprehensive inspection report for your review.
3. Any replacement dates or build schedules will be started upon your approval.
No work will ever be completed without your prior approval. Avoid the guess work and frustration of measuring your own barrels and screws. Call SFP today and schedule a FREE In-House Inspection.
Click Here to See All of Our Special Services

Manufacturers of High-Quality Products for the Plastics Molding Industry
Home | Request a Quote | Place an Order | Product Index | Online Catalog | Barrels & Screws | Electrical Products | Hoses & Fittings | Molding Accessories | SDS Sheets | Credit Application | Terms & Conditions | About Us | Contact Us

SERVICES FOR PLASTICS, INC.
800-627-1033
7925 N. Clinton St., Fort Wayne, IN 46825-3113, USA
E-mail: Sales@ServicesForPlastics.com
Contact Webmaster regarding content or link problems
Copyright 1997-2023 Services For Plastics, Inc. All rights reserved.