Engineering & Troubleshooting
Are you having a problem with your process and don't know where to turn? Or maybe you just want to improve your cycle times. We can help.
Troubleshooting the molding process involves control of four major factors; pressure, flow rate, cooling rate, and temperature.

With over 150 years of combined engineering and troubleshooting experience, we have probably solved a problem for someone else that has similar characteristics to your situation. Whether your problem is high scrap rates, slow cycle times, part-to-part inconsistency, or any other of a wide variety of process issues, SFP is the expert at diagnosing and recommending effective solutions to your molding problems.

However, since every molding project has its own set of variables, the best solution is to have one of our troubleshooting specialists visit your facility and see your problem first-hand. Once we identify the problem, we will provide you with our recommendations on how to correct the situation and save you money.

Call today for a quote, 800-627-1033. One of our sales engineers will be happy to assist you in getting an on-site troubleshooting specialist to your facility to solve your problems and get you back on the right track to doing what you like to do best - make money.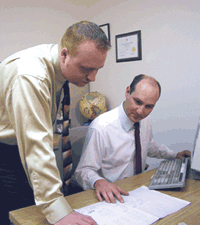 The answers to your process problem are just four easy steps away.
Call SFP at 800-627-1033

SFP will give you a quote for coming to your facility and diagnosing your process problem(s).

When the inspection is completed, you will receive a detailed analysis and suggestions for any necessary repairs, replacements or other actions.

Replacement dates are determined and build schedules started for your replacement components.
Call us today to learn how we can save you time and money with an on-site comprehensive process optimization analysis today.

Manufacturers of High-Quality Products for the Plastics Molding Industry
Home | Request a Quote | Place an Order | Product Index | Online Catalog | Barrels & Screws | Electrical Products | Hoses & Fittings | Molding Accessories | SDS Sheets | Credit Application | Terms & Conditions | About Us | Contact Us

SERVICES FOR PLASTICS, INC.
800-627-1033
7925 N. Clinton St., Fort Wayne, IN 46825-3113, USA
E-mail: Sales@ServicesForPlastics.com
Contact Webmaster regarding content or link problems
Copyright 1997-2023 Services For Plastics, Inc. All rights reserved.